2009 was a busy, eventful and life-changing year over here at chez sula. For starters, the location of "chez" (which literally means at the home of). It was one year ago today that DH and I finished moving all our stuff from the house I was sharing with messy college students into a cozy, historic apartment smack in the old town. We rang in the new year by spending our first night here. And how lovely it has been. Not just to have one's own place, but the location, the architecture, the windows and sunlight, everything. A great way to start 2009.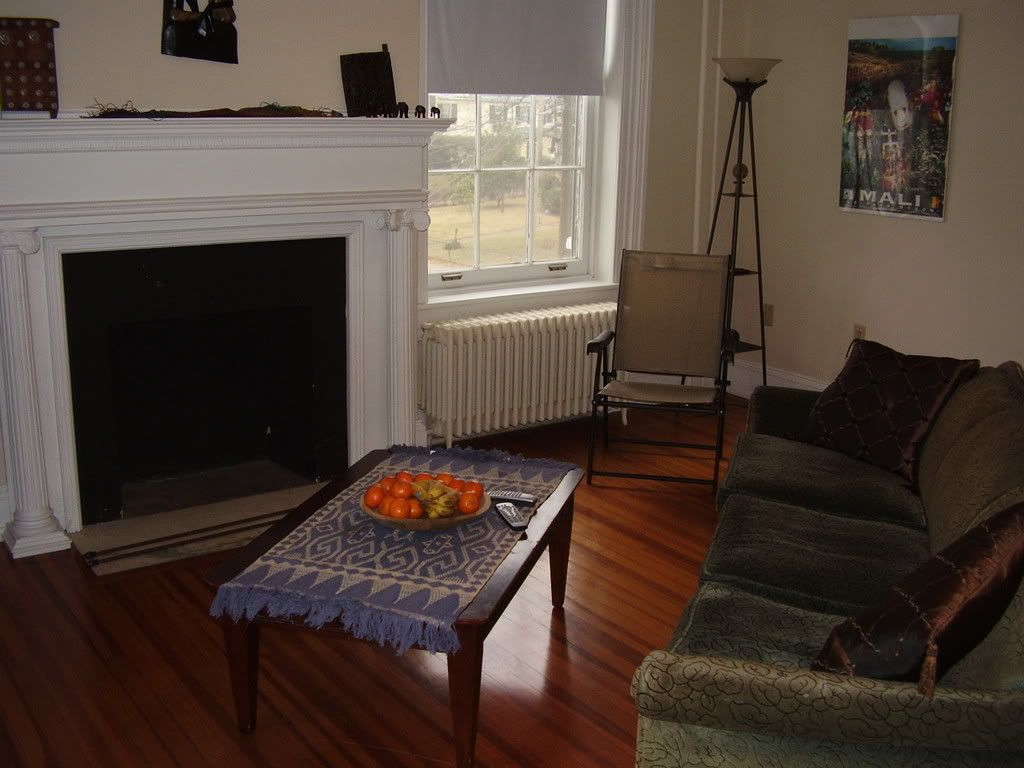 In April, I led a group of students, faculty and staff from our university on a one-week trip to Mali. Not only was it a great experience to be able to share the country I love with others, but I also got to re-connect with friends back there and visit DH's family. AND get back to speed on my language skillz (which apparently may go dormant but are not lost...happily).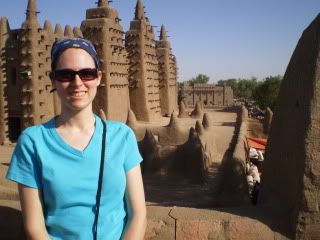 The first half of the year also saw both DH and I busily working on our respective degree programs. It's important to note that in DH's country, there is only one university. When he attended classes there back in the early part of the 2000s, a series of strikes resulted in the entire academic year being canceled. So he ended up working and doing other things and wasn't able to go back and finish his degree. When we got the chance to come to the States and study, it was an unforeseen opportunity. He slogged through three years of classes in not his second, but his THIRD language, was often the oldest student in his courses, and worked a part-time on-campus job to boot. So when he walked across the stage at commencement in May and received his bachelor's degree (the first person in his family to do so) I was bursting-at-the-seams-proud. :)
Right after graduation, there was another trip out of the country for me...I was in Taiwan for about 10 days for my work. It was special in that I got to spend time with a colleague and friend who is from there and being with her gave me lots of insider scoops that I wouldn't have had otherwise. (Did I mention the all-u-can-eat sushi bar for under $10????) heh. But I missed my fiance and it was nice to come home again.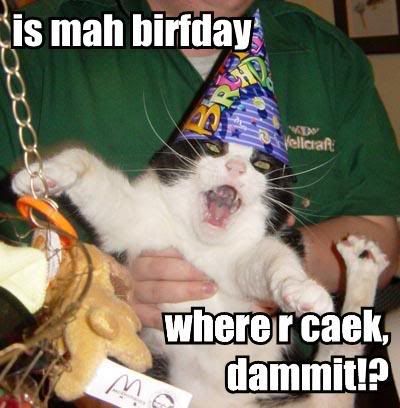 After two long years of part-time evening classes with no breaks for summer, I too got a chance to walk across the stage in August and receive my MBA. (Come to think of it, I guess I'm the first person in my family to get a graduate degree.) It was nice to finish the program, and I barely had time to catch my breath before my
30th
birthday. Yet another mile-stone of sorts. heh.
Then it was full speed ahead to the biggest milestone of our lives...our wedding! Thankfully, I had a couple of very talented and giving friends who basically planned, coordinated, decorated and shepherded me through the whole process. The ceremony was held in the backyard of our good friends. The mountains and fields served as a cathedral unmatched in beauty. With a classic English garden at on end, guests were seated in four sections creating a circle which surrounded the ceremony site. Our families began the processional and walked in pairs to their seats in front of the garden. To the strains of a single violin, the wedding party processed through the garden paths and met one another in the center of the ceremony circle. During a moving interfaith ceremony led by our two ministers (husband and wife), we took our vows and exchanged rings. A djembe drum ensemble led the celebration as we left the circle as husband and wife.
Our reception was held under the trees in an open buffet style. Among the dishes served were roast lamb, plantains and a special African rice dish. After toasts by the best man and matron of honor, we enjoyed musical selections by a small gamelan orchestra, an instrument native to Indonesia (my childhood home). We cut the cake and then had our first dance to a song by a musician from DH's home country. Guests joined in the dance and much fun and laughter was had. Before the sun set, we changed into our best traditional African clothing and finished the evening by spending time talking with our friends and family.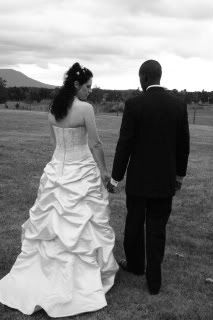 As if that weren't enough for an eventful 2009, DH found a great job (in this economy no less) and started work shortly after our wedding. I began taking Spanish classes and applied to another graduate program for spring (hey, gotta keep busy). Then last week, we traveled down to Louisiana to spend Christmas with my parents and meet my mom's side of the family. I hadn't seen my grandparents, aunts, uncles, cousins, etc. since 2000...so it was quite fun to catch up with everyone and to introduce DH.
whew! Now that I look back on all that, I can sort of see why my blog has fallen by the wayside. Hopefully next year I can get back to reading more books and writing more entries. So that was 2009. This is a year I don't think I'll ever forget. Now onward to 2010!
Happy New Year to everyone who takes the time to stop by this little corner of the interwebs. :)