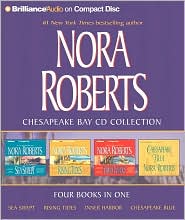 Well, I may not have time for reading or blogging in the mad race for the MBA summer term finish line. BUT I have found time to listen to an audiobook as I drift off to sleep in the evening. La Nora. This is her best, imho. Those Quinn boys are just fab. I'm partial to Phillip myself. Mainly because his book was my first NR read. But Cam and Ethan and Seth are all keepers too. What is so cool about these books is that while the romance between each brother and his woman is good and romantic and stuff, what's really great is the interaction between the guys. Miz Nora gets it right and it feels so natural and real. I luvs it.
So yeah. No books being read (except for that monster marketing tome on the sidebar). But at least there is some audiobook goodness to see me through.
The other end of this tunnel includes a quick trip to the other side of the country (yay San Fran!) and dinner, drinks and other hijinks with some of my blogging friends. I try to keep this in mind as I slog through the homework. It's like a carrot to keep me motivated.