Wow, to look at this blog, you would think I'm a total slacker. No updates for 10 freaking days? eeeeeek!!!
I feel like I've been trapped in some sort of parallel universe. Getting up in the morning and reading my marketing book over coffee before hurridly throwing together lunches for DBF and myself and rushing to work. Coming home from a full day at the office and sitting right down to study until bed time. I'm not sure what exactly it is about this semester but it's been much more time-consuming than the previous two I took on this MBA path. A combination of lots of busy-work in the marketing class (not hard, just takes a lot of time) and really dense theory in the economics class. Last night after completing my marketing final in record pace, I came home and worked on another assignment for econ. That final won't be until Sunday night. So from today till then, I have to focus on memorizing four or five chapters of scintillating material on topics like unemployment, inflation and whatnot. Thrilling.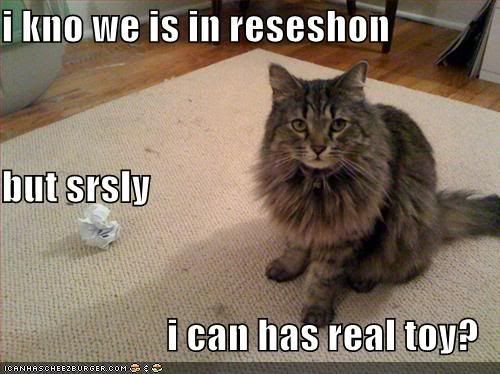 But on the positive side, I did get a new book in the mail (yay PBS!) and have been reading it in agonizingly slow increments as I find the time. This is a different way of reading for me. Usually, I sit down and devour a book in roughly an hour, maybe two. This time around, I'm just grabbing 5 or 10 minutes to read a chapter or two. So at least it will last longer. Which book? Ah yes, the incomparable Loretta Chase. The Lion's Daughter. I believe I put this on my wishlist after reading that Chase-a-thon over at Book Smugglers. Or maybe it was something else. I can't remember...just that I read that it was good and stuck it on my list and when it was available, the nice people at PBS asked me if I wanted it. So far it is entertaining. The heroine is teetering dangerously close to annoying, but she hasn't crossed the line yet so I'm happy about that. And the hero is funny and charming and reminds me a little of Rupert from the other book. Anyways, yay books. The cover makes me laugh.
(see why I haven't been blogging...I really have nothing interesting to say. lol)
In other news, DBF and I will be staying home this weekend instead of going on a four day vacation as we had planned. The long story short is that we had made some plans with a group of three other couples to go to the beach and rent two houses, go fishing, relax, etc. We're not super tight with any of said couples, but we are acquaintances and thought it would be a good opportunity for us to get out and see another part of the state...do something we normally would not do on our own. A week before the trip, we were asked by the couple who has been planning everything if we would mind not sharing a room (mind you, said room had two single beds in it, lol) because they are hosting a European exchange student who had marked on her application that she is a Christian. And they are Christian (pretty religious too, but we've always been able to live and let live in the past) and didn't want to offend her sensibilities. Apparently the idea of me and my BF, a couple in their late twenties that have been together for five years but aren't officially "married" sharing a room (again, with TWO SINGLE BEDS) might offend her. or something. Anyways, DBF was so not pleased to be asked this question. Highly insulted and really upset. At first I just thought it was silly and was inclined to shrug and say, sure whatever, just let them have their way. But now I see his point. We were supposedly equal participants in this venture, were going to be PAYING for the privelege of our sleeping quarters just the same price as everyone else. Out of all four couples, why would we be asked to split up just for the sake of some stranger's potential ease of mind? And they didn't even know if this student would actually CARE (she's from freaking france, I'm sure she's been exposed to the concept of unmarried couples) AND she was going to be staying in the other house anyways and not in the house where we were. Even though it was a "request" and not a demand, we felt that we wouldn't be comfortable now with the group, so we cancelled. ugh. It was a big freaking mess.
so yeah, no mini vacation at the end of the summer term. :( We'll try to come up with something that the two of us can do cheaply and funly (heh) before the end of August, but it won't include random 'friends'. *sigh*