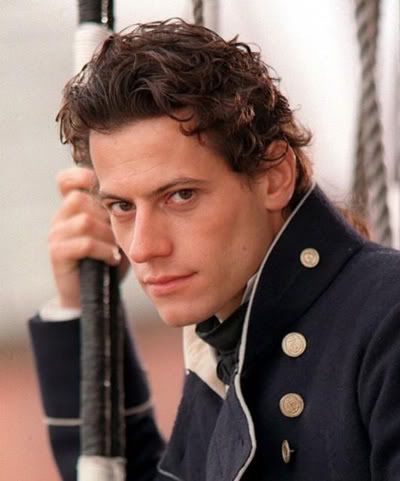 I have a definite 'thing' for the mystique and romance of the high seas. Nevermind that I turn green and empty the contents of my stomach whenever I myself dare to step aboard a boat. In my imagination, I'm deftly making my way across the deck, nimbly climbing the rigging or navigating the open ocean with my mad math skillz (snort). The drama and the sense of adventure that accompany seafaring tales always interest me. Be it a hot romance novel set onboard a ship, Johnny Depp in a pirate movie (rawr!) or British period mini-series about the Napoleanic Wars...I'm there. So when my netflix delivery this week turned out to be an episode of
Horatio Hornblower
, even though I had forgotten putting it on my queue sometime long ago, I was excited to curl up on a rainy day (today) and watch it.
The miniseries is an adaptation of the naval adventure series written by C.S. Forester. During my peace corps days, I listened to several audio versions of the books and found them to be both exciting yarns of derring do but also a fascinating character study of a man who is both shy and cerebral but also fierce and courageous. During the course of the series, he makes his way up the naval career ladder by using his quick wits and intelligence as well as a bloody good lot of luck. In this particular episode, Horatio goes from being an unemployed captain (war being temporarily over makes for an oversupply of naval officers) to being put in charge of a ship and sent on a secret mission to France. As always, he ends up entangled in the thick of some action and we're treated to raids on forts, cannons being blown up, hand to hand combat and lotsa ships shooting at each other. What could be better than lots of men waiving their big swords around? Waiving their big guns? lol. *ahem*
What do these films have to offer the romance fan? Well, for one thing there is plenty of chisel jawed Ioan (prounced yo-ahn) Gruffud to gaze upon. Then there are those lovely sailing ships and period costumed sailors and officers. Best of all, the hearty male camaraderie and brotherhood amongst the characters is touching and dare I say, has a hint of something deeper? Ok, I'm sure it was never meant to be seen as such, but my mind goes where it will. heh. So sue me.
Go swash a buckle and
check this series out
.