So after the
amazing high
I got from reading
Caine's Reckoning
, I suppose I should not be surprised that the next few books I tried to read were just...uninspiring. *sigh*
I got about halfway through Susan Krinard's
Lord of the Beasts
before I realized that I just didn't care. The hero with his fey abilities to talk to the animal kingdom was just a wee bit too precious for my tastes and the heroine was a self-righteous prig. At the halfway mark a secondary character who was also pursuing the heroine turned into a stereotypical eeeeevil bad guy. So I skimmed through the last half to make sure everything turned out as I knew it would and called it quits. Then I read a few chapters of Beverly Jenkins
Wild Sweet Love
which also failed to engage my interest (much to my chagrin because the
cover
was smokin' hot). I also got two chapters into
The Affair
by Sandy Hingston and had to restrain myself from throwing it against the wall. I don't consider myself a stickler for "historical accuracy", but the attitudes and dialogue were absolutely jarring even to my lax sensibilities.
I decided that a trip to the library might be in order and since the place I'm staying is close to a different branch of my library system, I had the chance to look over a new-to-me collection. After perusing the shelves, I picked a variety of books from different genres. Some of the authors I've read before, others I haven't.
Here's my stack: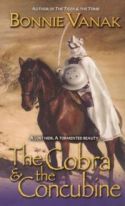 Why I grabbed these?
The Irresistible MacRae
- Karen Ranney
I totally loved Ranney's
After the Kiss
and also enjoyed
To love a Scottish Lord
. Although I've also read some clunkers (exhibit A:
An Unlikely Governess
), I wanted to see how this installment went. And it's been a while since I've read a good ol' hero-in-a-kilt tale. *g*
The Cobra and the Concubine
- Bonnie Vanak
I've never read Vanak, but I do have a soft spot for stories set in Egypt. Also, I seem to recall
Kristie(J)
having some positive things to say about this author. So it's time I tried a book by her.
To love a Thief
- Julie Anne Long
Read one of her spy books a while back, and while it wasn't without its flaws, I remembered it as being something of a fun caper. Can't hurt to try another one.
Master of the Moon
- Angela Knight
I bought
Master of the Night
a few months ago after picking it up randomly and purchasing it at Borders. It's pretty rare for me to spend money impulsively on authors I don't know, but I was in one of those moods, so I indulged. The book was ok and relatively entertaining, but I swapped it out as soon as I finished it. When I read the back of Master of the Moon and realized it was King Llyr's story (he was a strong secondary character in MOTN), I snatched it up.
Kiss and Makeup
- Allison Kent (Harlequin Blaze)
No real reason for getting this one, only that I'm trying to include more category books in my diet. Blaze seemed like a line that might work for me, the cover was neutral (no secret babies or sheiks) and a quick flip through convinced me that the author's writing was strong.
Bluestocking Bride
- Elizabeth Thornton
Thornton's name shows up now and again in discussions over and AAR, so I picked this up on that basis. I'm a little leary because I did try one other book by her that was a DNF, but I'm willing to give her another try.
The Star King
- Susan Grant
As I
blogged
about last week, I read my first book by Grant and wasn't all that impressed. But I promised her to give her work another shot. This book was on the library shelf, so now it's on my bedside table. After getting halfway through it last night, I am happy to report that it's very entertaining and definitely working much better for me than my previous foray. Here's hoping it finishes as strongly. *g*
So there's my reading list for the next week. If anyone has further suggestions, I'm always happy to hear them. One never knows what treasure lurk within the local library. :-)