On my way home for the long holiday weekend, I thought I would drop by the library and get a fresh new haul to last me for the four luxurious no-work days ahead. I picked up six books and got started on them that very night. By the next evening, I had finished four and was working on the fifth. Needless to say, my book haul did not last the weekend. *gulp* Ok, what can I say? I read too damn fast. Anyways, here's what my Thanksgiving weekend reading consisted of in the order I read them.
Why Not Tonight? - Jacquie D'Alessandro (HQ Blaze)
I've never read anything by this author before, although I have seen her name pop up from time to time on review lists. I've been making an effort to grab a few series books each time I go to the library because they're short and bite-sized. Kind of like an appetizer. Anyways, this was a nice little book about two normal, relatively well-adjusted people getting back together after ten years apart. The real plot of the book happened within a twenty four hour period during a blackout. Since the h/h had already known each other previously and had developed a relationship in their past (albeit their young college-aged selves), this 24 hour thing didn't feel like too much of a stretch. The love scenes were passionate and inventive even though there were quite a few packed into that one night. What I really liked about the book was that the characters talked and thought like normal people. One of the things that keeps me away from contemps is that at least in historicals I can suspend my disbelief if people act odd or in a way that I might not. Hey, maybe that's the way people did it back in [insert date]. But when I read contemps in which the putative hero or heroine act like they're characters in a cheesy novel and not actual people I might meet and know…it pulls me out of the story quicker than any "wallpaper historical". All that to say, this particular book didn't suffer from that at all. The only minor thing that pulled me out of the story was whenever the hero's complete name would be referenced. As a huge U2 fan, the name "Adam Clayton" is synonymous with the
chilled out bassist
of that band and every time I read it, I pictured him and giggled. But that's just me. Lol.
B+Kiss of the Highlander – Karen Marie Moning
I've read one other Moning book, and it was the sequel to this one. I remember finding it over-the-top and laugh-out-loud funny because I just couldn't take it seriously. An ancient Druid time-travelling and strutting around the twentieth century bellowing "och" and "doona" and "lass" just wasn't happening for me. In retrospect, I would have done better to read this book first as much of what happened in the next book is set up by the events in Kiss. In this outing, Drustan MacKeltar is awakened after a five-hundred year enchanted sleep by geeky former scientist Gwen Cassidy. Of course, he finds himself instantly attracted to her. Of course, she is a virrrrgin (although this is unbeknownst to him). They spend a few days traipsing around the modern day Highlands as he tries to convince Gwen that he's from the 1000s and she tries to figure out why this good-looking hottie is missing a few screws. At the ruins of his family castle, he uses his Druid magic to return them both to his time but miscalculates and lands Gwen in a past in which his past self has no knowledge of her or the future they just shared. Hijinks ensue…I feel like I've read this before, wasn't it called A Knight in Shining Armor? Oh yeah, but in that one we had to settle for some watered down reincarnated version of the hero. Not in this book! I have to admit; Moning skates a very fine line between a rollicking good yarn and a howlingly funny parody of a romance novel. I wasn't always sure which side of the line the story fell upon, but overall I was much more entertained by this book than by the sequel. (Disclaimer: my favorite books in the universe are Gabaldon's Outlander series, so obviously I'm not opposed to time-travel and tartans in principle.)
BBy Arrangement – Madeline Hunter
I initially read this book (it was my first novel by Hunter) last Christmas while house-sitting in the same location where I'm at now. I had such fond memories of being cozily curled up with these amazing medieval stories and being completely "swept away" to another time and place. As I stared at the library shelves and thought about a long weekend, I couldn't resist picking this one back up to see if it would work as well the second time around. *sigh* Oh yeah. It definitely did. I love this book. Ms. Hunter does such a fantastic job of weaving the historical details into the story that you never feel hit over the head with her obvious knowledge or completely alienated by the strange world in which you find yourself. David de Abyndon is a unique and memorable hero. He's not a knight, a lord or a duke but a cloth merchant. Although beneath the nobility in terms of his social class, he holds himself with a poise and calm self-assurance that I found meltingly sexy. Still waters run deep indeed.
Christiana Fitzwarren is the ward of the king. Although at eighteen she's older than most courtly brides, she is both naïve and self-centered. Convinced that she is in love with a chivalrous young knight (obvious to David and to the reader immediately as a total bounder), she tries to get out of the betrothal to David which the king has arranged for her. David's quiet determination to carry out their engagement as planned and refusal to let Christiana deceive herself into romanticizing her knight force her to face reality and to grow up. Although something of a spoiled young girl in the beginning of the book, Christiana matures and shows an inner strength and intelligence over the course of the story. For his part, David finds himself and his orderly world increasingly disrupted by his deepening feelings for his wife. Watching these two people come to know each other and learn to love despite the differences in their social class, ages and worldviews is what makes this book such a pleasure. After putting it down, I wanted to reread it immediately, and to me that is the sign of a true keeper. I have since read most of Ms. Hunter's catalogue, but I have to say that none have quite measured up to this book and that her move to historical Regencies was a huge loss for those of us who love medievals.
A+Night Watch – Suzanne Brockmann (HQ Silhouette)
I think this is my first Brockmann. I say "think" because I may have read something by her eons ago (for some reason the name sounds familiar) but I can't remember enough to say definitively that I have. I know she has quite a following, but I didn't know which book would be the first in what seems to be a series. And frankly, I'm not a rom-suspense kind of gal, nor do I swoon over the thought of SEALs. That said, I figured a nice short HQ might be just the ticket for a little escapism and something outside my usual historical genre. And that's exactly what it was. I liked that our hero is short and not the huge hulking specimen of Fabio man-meat that one might expect of a SEAL starring in a romance novel. He's suffering from unrequited love and a hopeless crush on a fellow SEAL's wife. And our heroine seems pretty normal (see above rant on contemps) which is always nice. She has a nineteen year-old adopted son who is in college on a baseball scholarship. Two relatively normal adults indulging in a consensual sexual relationship. How refreshing. Indeed, the side-plot involving a crazy stalker intruded on the story and I could have totally done without it.
B-Not Quite Married – Betina Krahn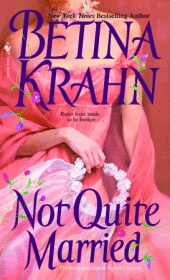 According to the inside cover, this is a re-release of an earlier work by the author. I remember reading quite a few Krahn books back in college but haven't really picked up anything by her since then. When I flipped through this one, it looked like it was set at least partially in the colonial United States which seems rare in these days of Regency drawing rooms. Little did I know that most of the book does take place in merry old England with only an interlude in Boston. It would take too long to try to summarize the plot, but in brief, our heroine is an independent free-thinking young girl (shock!) whose father decides that he's given her too much liberty and now she must settle down to wife and motherhood. Seeking to get out of the marriage he has arranged for her (to a loathsome Frenchman! What is it about the French that fates them to always play the bad guys anyways?) she sneaks away and pays another guy to marry her and then take a hike. The "other guy" is actually a nobleman's son on the run from his father trying to marry HIM off when all he really wants to do is build boats. So yeah, they marry and go their separate ways. She still is forced to marry the eeevil Frenchy because Daddy can't find legal proof of her other wedding. The evil French dude locks her up and threatens torture but ends up dying in a house fire (how convenient) and our heroine emerges from the experience as an older, wiser widow. "I shall never marry again!" Oh silly girl, you KNOW that when you say such things in a romance novel, you're just setting yourself up. Tsk tsk. When she travels to America to manage some of the family business, guess who is the captain of the ship? Yep! They indulge in some of the happier aspects allowed them as a "married" couple but she refuses to acknowledge him as her husband. But he really loves her. And so on. I'm making it sound more tedious than it actually was. In fact, until about the last 1/5 the book was pretty good. But then, we had to have evil French redux in which the father of the dead man kidnaps our heroine and forces her (again!) to marry the cousin of the first evil Frenchman. *groan* Thankfully, THIS time around, the hero manages to show up in the nick of time with (finally!) documented proof that he has already married the heroine. Hah! So much for being brief about the plot, huh? So how was the book? Overall, pretty decent writing and good use of historical details. My main complaints are with the coincidences that are far too convenient and with the overly evil bad guys. Oh and the love scenes were too tame for my tastes.
C+In the Prince's Bed – Sabrina Jeffries
It's probably a bad thing when you can't remember much about the book you read two days ago. Well, what I do recall about this one was that the hero is the illegitimate son of Prinny and the heroine thinks she is in love with a gay poet who doesn't know he's gay. Alec (the hero) needs to marry a rich heiress. Our heroine (see, I've already forgotten her name!) is poor for now but will inherit a crap-load of money when she gets married. Supposedly this inheritance is a secret, but Alec knows about it. Thus his initial interest in her as a marriage candidate. Of course when he lays eyes (and lips) upon her, it is true love. But what will happen when she finds out that her ardent pursuer started his pursuit because of her money and not her lovely charms? That's pretty much the plot of the book. I actually felt sorry for the heroine's poet friend because he was in the closet even to himself, although it was a nice touch that the author gave him a love interest and the courage to move away to another country and pursue the relationship. Yay for happy endings! I think this is the first of a series about illegitimate sons of Prinny. Seems to me I skimmed another of them but didn't find it interesting enough to actually READ. While Jeffries is a decent writer, I just never emotionally connected with either character.
C+
The Smoke Thief – Shana Abe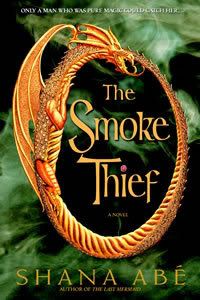 Thank goodness for paperbackswap.com! I had received this book a few months ago and was saving it (in its mailing wrapper no less) for a rainy day. As it happens, I finished all my library books way before the end of the weekend and this book stepped into the gap to keep me from boredom. Abe's quasi mystical world of drakons was really quite enchanting. I loved the world she built and the details of the Turn from human into smoke into dragon. Christoff is a manipulative bastard, true. But then again, Rue is arguably just as manipulative and mistrustful. So they're probably well-matched. I'm still working out how I feel about this book, actually. High marks for world-building, slightly lower ones for likable characters or the lack thereof. Check back with me once I've read the sequel.
B+
Stay tuned for tomorrow's special edition of "North and South" week celebration! See
Kristie(J)'s blog
for details.