So after that all-day study-a-thon, I came home last night totally wiped out. DBF and I curled up on the couch together, ate pizza and flipped through the TV channels. Turns out that
Princess Bride
was on, and DBF had
never
seen this class film! I had great pleasure in introducing him to one of my all-time feel-good favs.
I mean seriously...this movie is quotation heaven!
"As you wish!"
"No more rhymes now, I mean it!" "Anybody want a peanut?"
"Inconceivable!"
"You keep using that word. I do not think it means what you think it means."
"My name is Inigo Montoya, you killed my father. Prepare to die."
"Your friend is not all dead, he's mostly dead....All dead and there is only one thing you can do....go through his clothes and check for loose change."
"Mawwiage...mawwiage is what bwings us togever today."
"There is a shortage of perfect breasts in this world. Twould be a pity to damage yours."
"Drop. Your. Sword."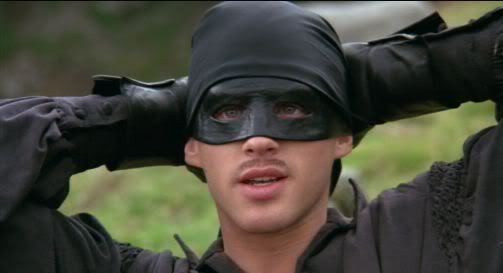 *sigh*
I had such a teenage crush on Westley, although I didn't really want to be Buttercup. Even then I could realize that she was too much of a ditz (check out her lame reaction to the R.O.U.S. in the fireswamp.) But Westley...oh my little heart went pitter pat. I distinctly remember wearing out a hole in the VHS tape (remember those?) on the part when they rolled down the mountain and had their big reunion. AND being annoyed at Fred Savage's character for stopping all the good kissing bits.
Memories. Heh. Anyways, my BF really enjoyed the movie and now I'm sure to hear the Inigo Montoya line in the future.
Anyone else want to reminisce with me? Btw, if you are brave, ABC has this
20 year retrospective
where they show then and now pics of the actors involved. My poor teenage crush...is seriously crushed. yikes!