So tonight is my first night back on my own, so to speak. DBF moved back into his residence hall on campus. While I will miss having him around, it's not like we don't see each other every day during the semester. So it will be alright. I'll just miss having to roll over and shake him to stop his snoring. heh. Oh okay and I may just miss him for other reasons too. but enough of that. lol.
A friend of mine came over to hang out with me tonite, something that we rarely get to do. She's a filmmaker and documentary producer and has done some really cool stuff in her life. We get along great but just are both busy and have a hard time coordinating time to do stuff. So taking the evening to relax, catch up, watch some Olympics, eat some great food and then introduce her to the all-time classic film "The Last of the Mohicans"...was just too fun.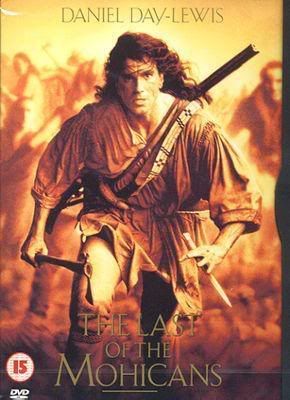 As we were watching LOTM, I couldn't help but think back to my first viewing. I was 12 years old just about to turn 13. It was the summer before I would make the big switch from our grade school to high school (both were boarding schools) which was on a completely different island. I was so excited to be going away to the BIG school but also nervous about becoming a teenager and starting that phase of my life. I remember seeing this movie and just being so caught up in the drama and passion of it. I was utterly enthralled. I think I cried. The movie was, to me, a Very Big Deal. I remember hunting through magazines by candlelight later on that night to find a one-page ad of the movie poster, ripping it out and posting it on my wall. That page was to follow me to school to be posted on my dorm room wall and back home each break. Eventually it came back to the States with me and was posted on my bedroom wall there. I think I finally retired it from my wall decor sometime in college, but it still lies in a storage box somewhere. Witness to my childhood obsession with romance, passion and adventure.
I got ahold of a tape copy of the soundtrack and played it incessantly. I taught myself how to play the main theme songs on the piano and would lose myself in the music. Whenever I had a chance to rewatch the film, I did so. I recall sitting in Biology class with a girlfriend and writing notes back and forth about how hot Daniel Day-Lewis was in the kissing scene. (come to think of it, this note-writing thing...was kinda like blogging and texting...back in the old days).
All of these funny little memories came back to me tonight as I watched the film yet again with my friend and witnessed her reactions to it. And you know what? It really is a great movie! It's not just my 12-year-old nostalgia apparently. She loved it and was totally drawn in. And she does this stuff (make films) for a living. heh. We had a good time.
I can't talk about LOTM without leaving you with the ultimate kiss. In retrospect, I still think it's an awfully HOT scene despite the fact that both characters are fully closed and nowhere near a bed. The total focus and absolute connection between the h/h is far more passionate than any bow-chicka-bow that I've ever seen. This is romance, folks! Enjoy!