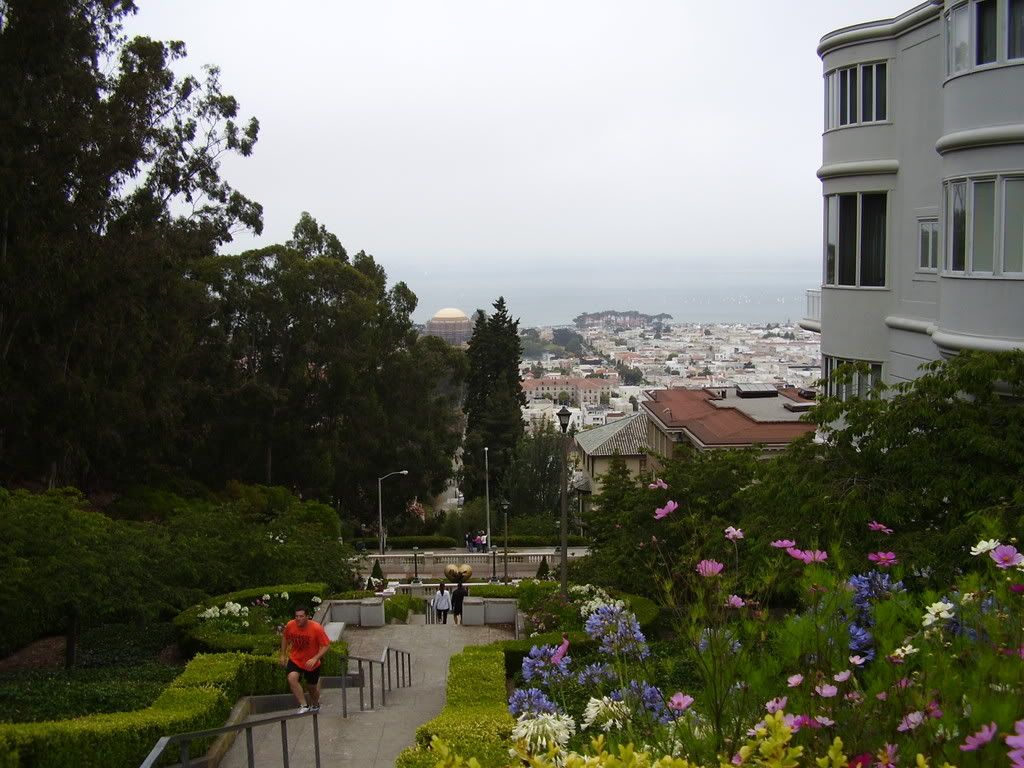 Although I technically arrived back home early on Thursday morning and actually missed all of the actual RWA conference, I have been so busy catching up on work, email and sleep that I just haven't had the courage to blog. I'm now sitting here beside DBF, scary "when animals attack" type show on in the background. eeek!
Flashback to exactly one week ago. I woke up bright (dark actually) and early on Sunday morning around 3:30am. The drive to the airport takes about 45 minutes but I always give myself tons of time to navigate parking, security, etc. By 7:00 am, I was happily ensconced on my first JetBlue flight. 5 hours goes a lot faster when you have satellite TV with tons of channels to surf. heh. I arrived at the Oakland airport around 9am and was picked up by a friend and her sister. They took me to the neighborhood where they grew up and we hit up a local breakfast eatery. Then it was off to San Francisco to see all the touristy sites. I was really lucky to have local guides and the independence of a car. We did the hills and I almost had a heart-attack thinking about driving my stick shift car there. Pier 39, the "crooked street", the Golden Gate, Chinatown, and all kinds of fun neighborhoods. We got stuck in traffic near Folsom Street (which was blocked off for a party) and saw some festive fair-goers. The sign said "adult themed" event. And the assless chaps that one guy was wearing right by my window concurred with that assessment. omg! Apparently cellulite is not limited to women. My only regret is that I was not quick enough with the camera. I really wanted to present photographic evidence to my pahtnah
lisabea
.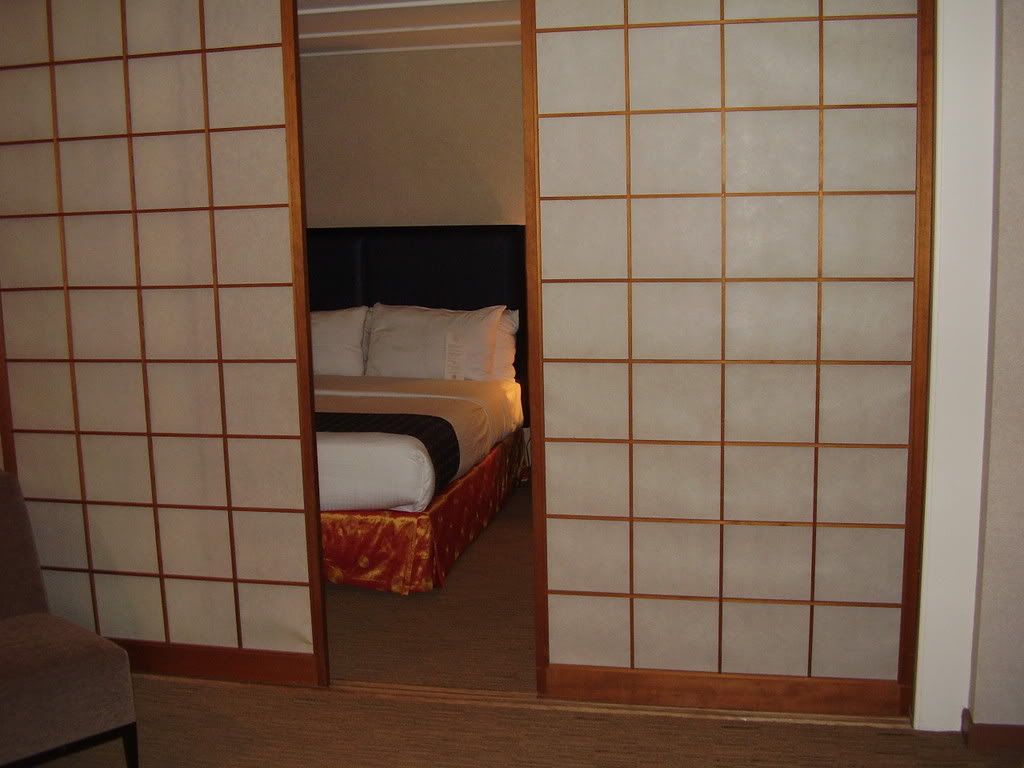 After a totally full day of sight-seeing, shopping and eating, I checked into my hotel in Japantown. Lucky me! They gave me a free upgrade to a suite. Why, I dunno, but no complaints here. I had my own sauna. *g* I was operating on only a few hours of sleep, had spent the whole day on the go, and my body thought it was still on EST. So all I remember is crashing into bed. And then waking up early to go to my workshop.
Monday morning - We'll skip all of the boring workshop details (this was a business trip) and get to the evening. I braved the public transportation in the form of a bus (saving me lots of money) and met up with bloggers KristieJ, katiebabs, ciara, tracy, and alys. After chatting about books n' stuff, we got a recommendation from the hotel concierge and set out to walk (and walk and walk) to a Thai restaurant. Yummy food, funny conversation, and tasty drinks were all on the menu. Then we walked (and walked some more) back towards the hotel. We ended up at a bar where beer was consumed by moi and katiebabs somehow convinced poor lil' alys to do a shot of goldschlagger (sp?). hooooowheee! That is strong stuff. Alys looked just a little dazed and confused for the rest of the night.
Tuesday - more of the same work stuff all day. Then I took the bus again, being an old hand by now, and met (omg) pahtnah!!! woot! I blogged about this previously, so I'll sum up quickly. Sushi was had. Drinks were consumed. Hilarity ensued. And then we made it back to the hotel bar where we hung out with bloggers Wendy and Rosie as well as author/blogger Carrie Lofty. It was great to finally meet Carrie after having traded emails and blog comments for months. Carrie has the distinction of introducing me to my totally irrational love of Dr. Who (thanks!). And she and I are big huge U2 fans. Annnnd, check out her upcoming release! Pretty cover, natch. Great price, natch. Oh and something to do with Robin Hood-y type tales? I'm there. Watch this space (and the DIK blog) for more deets as we get closer to the release date.
Wednesday - workshop over, I slept in till like 9am! And then checked out of my hotel and headed downtown with my bags to the Marriot. Katie let me drop my bags in her room and then a bunch of us went out for breakfast. Also previously blogged about. Angela James is teh bestest. Not only does she work for Samhain (and I heart their books) but she also sports a nose piercing just like me. yay! Oh and she picked up the breakfast tab. awwww.
Fortified with a hearty breakfast, most of us went back up to the room to gab and blog. It was quite liberating to be able to talk about romance novels, sex, relationships et al with a group of smart ladies. Although we had lots of laughs, there were actually many good relationship 'smarts' to be gleaned from those who had been in long-term things (like marriage) for many years. For a young whipper-snapper like myself, it was nice to get some wisdom and advice. And stuff.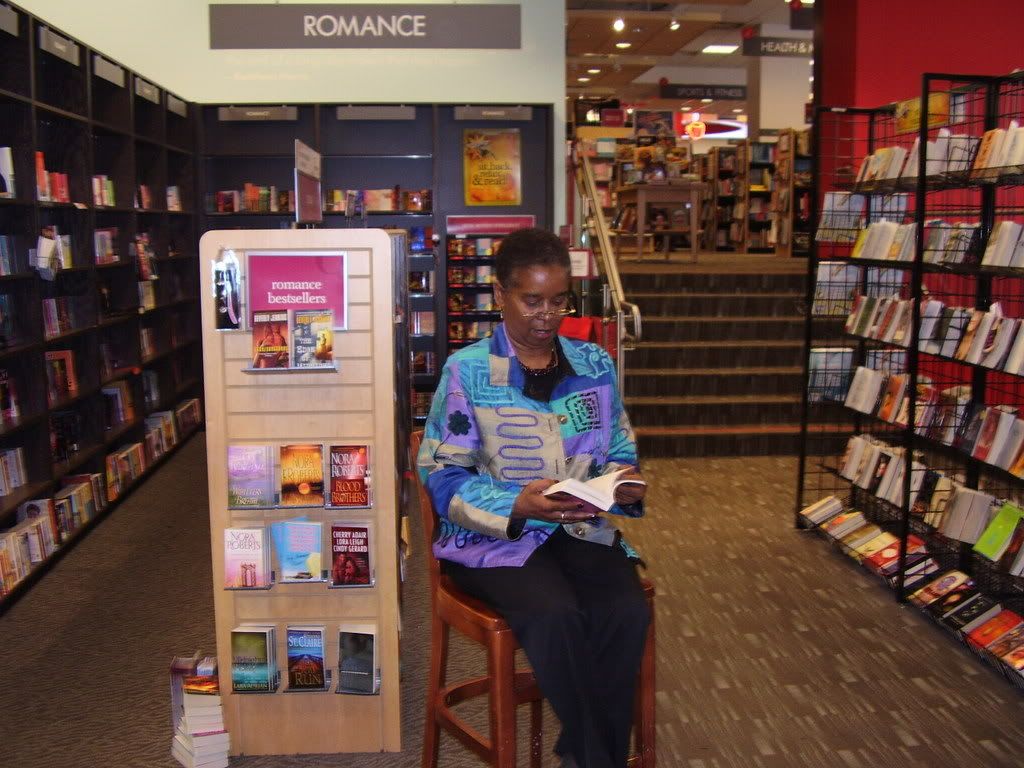 lb had a thing to go to (*cough*pitch*cough*) and I wasn't sure when she would be available to do our Castro district trip. So when katiebabs asked if I was ready to go to the Today Show filming at Borders, I went for it. We walked to one Borders on Union Square, found out that in fact the taping was at another store, caught a cab and made it in time to meet and mingle, check out the shelves and chat with other bloggers and readers. Beverly Jenkins was asked to do a reading from one of her books and before they rolled tape she gave us the backstory. It sounded really interesting. And then my phone buzzed, so I dashed to a back corner of the store. lb had finished her thing and we were on for our big trip to the Castro. So I had to duck out. Sorry Beverly!
lb has already
blogged
in great detail about our field trip to the "gay" district of San Fran. Let me just say that the outting (har) was fun fun fun. Not only was there a cool vibe in the area but it was great to hang out with someone that I've been blogging with for months. It felt a bit like our chats on AIM, but live and in technicolor. S'rsly. Good times. She cracks me up. Castro was great...I got a print copy of MFC! woot! And we visited a sex store and I saw pictures of acts that I had hitherto not imagined. lol. Verra educational.
We rode the cable car trolley thingie back up to the middle of town and made it back to the hotel in time for the big literacy signing. There was quite a line to get into the ballroom, but once you made it in, it was like a big candy store. books! authors! A to Z. I was a little shy to talk to some of them. Mainly because I was on a strict budget and simply could not buy books from everyone. *sniff* I had a nice little chat with Joanna Bourne in which we discussed the French language, my experience as a Peace Corps volunteer in W. Africa and her time in the same region. And she signed a copy of
My Lord and Spymaster
for me. I'm so looking forward to reading it.
Other authors I met and said hi to include Elizabeth Hoyt, Connie Brockway, Ann Aguirre, and Madeline Hunter. I begged Kresley Cole for some horn-lickin' in Rydstrom's upcoming story, which garnered a laugh from her. She's frickin' beauuuutiful. *envy* What else...oh yeah. Jade Lee managed to convince me that I needed her book
Tempted Tigress
. And I ran into Laura Baumbach and scored little goody bags promoting her and Josh Lanyon's upcoming release
Mexican Heat
(holy HOTness!) Said goody bag included an adorable shot glass. I can't wait to try it out.
There was a little blogger get-together which I only got to catch the beginning of. Thankfully, I did snag a piece of pizza before catching a cab back to Oakland and my red-eye flight to D.C. I made it back to my car, drove home (somehow managing not to fall asleep at the wheel) and crossed paths with DBF as he was driving to work. We exchanged air kisses and then I went home and crashed.
In retrospect, I am really really happy that I was lucky enough to have a work event to go to in San Fran that just happened to fall around the same dates as RWA. I feel super lucky. Not only did I get to see old friends but also meet lots of new ones. I don't talk about my romance reading to anyone within my "real life" circle of acquaintances, so it's not only a relief to be able to do so but also totally thrilling to be with others who "get it". Can't wait for next year in DC...practically my back yard. :)