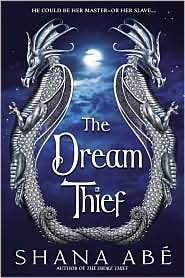 Ever wished you could see the future? Seems like a handy talent to have, no? Well, judging by what I learned from Lia, the heroine in
The Dream Thief
, this future-seeing thing may not be all it's cracked up to be.
Lady Amalia Langford or Lia is the daughter of Rue and Christoff, the powerful drakon first introduced to us in
The Smoke Thief
. Drakon are an ancient race of dragon/humans who have the power to Turn into smoke and also into dragon form. Originally from the Carpathian mountains, this particular clan of drakon live a very tightknit, secretive existence in the woods of England. The only human who knows who and what they are and is still allowed to live is Zane, a clever thief who played a secondary role in the previous book. Lia is the only Langford who doesn't have any of the drakon special powers. She can't Turn. She can't fly. What she CAN do is see the future in her dreams, but this is a secret she keeps to herself. And given the fact that she's seen that her future includes Zane as a lover, this is probably a smart idea (uber-protective father plus ultra-secretive clan plus non-drakon BF does not make for happy intra-species dating, and believe me I should know.)
Drakon have this thing for jewels. They can hear them sing. And apparently there is one jewel to rule them all, so to speak, called
Draumr
. Rue and Christoff commission light-fingered Zane to travel back to the old country and fetch this diamond. They offer him a lot of money. What they DON'T tell him is that
Draumr
can be used to control drakon. Lia shows up along the way and compels Zane to take her along on the journey. Of course Zane is remembering her not-quite-human father and thinking that this would be a very bad idea. But he doesn't have a lot of options. So off they go into the wilds of Hungary and Romania. Searching for a diamond that may or may not exist and guided by Lia's ability to hear the song of Draumr.
About that future-seeing thing. Not so great when you can foresee the man who is destined to be your lover use the jewel-to-rule-them all to control you and your family. The question is...knowing what you do about the future, can you work against your fate and change it? Can you trust the one you love? And most importantly, what's it like to be a virgin and yet have experienced passionate mind-blowing sex in your foreseen future???? (this is really what my inquiring mind wants to know...check out page 139 for the answer)
Nineteen years old, a virgin who'd never even known an actual kiss - yet she knew all about making love. She knew a human man's taste, and his body heavy over hers, and the wild pleasure of him inside her, every night. She did whatever he asked of her, everything he asked. She did things she'd never known a man and woman could do together.
Touch me here, like this.
Take me in your mouth.
Lie back.
Put your arms above your head.
Do you feel this, Lia? Tell me. Tell me how I make you feel.
Tell me what you want me to do to you.

No wonder she couldn't sleep.
Heh. Yeah, no wonder.
What really worked for me in this book is the road-romance aspect of it. I do so love a book in which the h/h are together for long periods of time and we get to see the development of their relationship. I also really love those morally ambiguous heros who are just on the edge of being an anti-hero. Zane is a thief. Not a gentleman masquerading as a thief, not a duke in a spy's mask. He's a gutter born London thief who has crawled his way up using all of the skills at his disposal. And yet he's not coarse or crude. He has a great deal of wry humor and wit and, perhaps surprisingly for a thief, honesty. And Lia. I tend to be very hard on my heroines. I have great expectations (har) for them. And I get annoyed with them when they become TSTL. But I gotta hand it to Lia. She's smart and she's tough and yet still vulnerable. I like how she thinks things through, analyzes and decides on her course.
The lyrical nature of the prose has to be mentioned. And the very clear sense that one gets of the world of the drakon. And I really really want to read the next book now because the glimpses I got of the Carpathian side of the clan are quite intriguing. So bravo, good stuff. I recommend it.
Grade:
B+