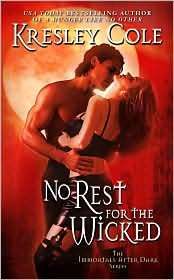 No Rest for the Wicked
picks up right where
A Hunger Like No Other
left off. Valkyrie warrior heroine Kaderin "the Cold Hearted" (it's kind of like a WWF name, get it?) is preparing to enter her fifth Hie. The Talisman's Hie is described as the Amazing Race for the immortal set. I've never seen either show (though I hear the Hie kicks AR's collective ass) but the exotic locals and derring-do adventures that the competitors go through reminded me of a cross between Indiana Jones and TombRaider. Kaderin has won this competition for the past millenium or so. It takes a combination of daring, hard work, skill and downright ruthlessness to succeed. And she's got all of those fine qualities in spades.
When not traipsing around the world seeking ancient treasures for an inter-species scavenger hunt, Kaderin's day job (or night job as the case may be) is killing vampires. After losing her two sisters in an epic battle against the evil Horde variety of vampires, Kaderin's got something of a bone to pick with those bloodsuckers. I bet you can't even imagine who fate has got HER matched up with? *blinking innocently*
Sebastian Wroth never wanted to be a vampire. Turned against his will by a brother who wanted to save him from death, he has spent the past centuries alone and depressed. When Kaderin the Vampire Slayer comes a-calling at his castle, he's ready to shake off this immortal coil and welcomes the killing blow she's ready to mete out. But something about him makes her hesitate at the last moment. And before you can say 'fated to be mated' (I'm starting to like that phrase, heh) his vampire heart begins to beat. Which means that he has found his Bride. Too bad for him that said Bride is a lean mean fighting machine with zero interest in emotions or love and a serious prejudice against vampires.
Thus begins a really fantastic romp around the world. The sensual game of cat and mouse between these two is interwoven with the larger arc of the Hie, as they travel to exotic and forbidding parts of the globe. Kaderin has a driving need to win this one as the ultimate prize is a time-traveling key that might offer her the hope of rescuing her sisters from their fate. For his part, Sebastian joins up with the somewhat sweet idea of winning the prize for his prospective GF, not really realizing what a freaking FORCE of nature this gal is to be reckoned with. But here's the thing. Rather than get all stompy alpha male about the fact that Kaderin can take care of things, he's supportive of her and uses his unique skills (like that vampire trick of tracing) to help her whenever he can. It's super sweet and really damn hot, the way these two clash and yet still work together throughout a variety of hair-raising adventures.
"We've got to stop this," she whispered, even as she moved her fist on him. "These beasts..."
"Are suitably terrifying. Doubtless." he pressed a brief hot kiss to her mouth, then met her eyes again. "Appreciate it if you'd keep...stroking."
Cole keeps the sexual tension-o-meter on high pretty much the whole way through and this combined with the excitement of the Hie makes this book damn near impossible to put down. As my bud
lisabea
pointed out to me the other day, these books really do follow the road-romance type. And we've already established that I'm a sucker for those.
I really had a great time reading this book. Strong heroines are a hard character to get right. They so often end up as either unsympathetic ball-busting stereotypes or (worse) faux warriors that are really just looking for the right man to take over for them. Kaderin is neither. She's a complex woman with her own motivations and a history that has shaped her. Ultimately, her ability to face her fears and allow herself to feel emotion is a reflection of her courage and I really respected that. The catalyst for this thawing is of course the steady and dependable wooing of Sebastian. And he's no slouch in the courage department either. He realizes that if Kaderin wins the key and travels back in time, he risks losing her forever. And he's willing to help her do it despite the cost to himself. Clearly, the man is a romance hero to fall in love with.
I heartily recommend this book. Run out and buy it right now. Even if you don't read the others in the series, this one is well worth your time. I'm supposed to be sending it to
CJ
about now, but I am feeling the need to reread just once more before passing it along. Enjoy!
Grade:
A-