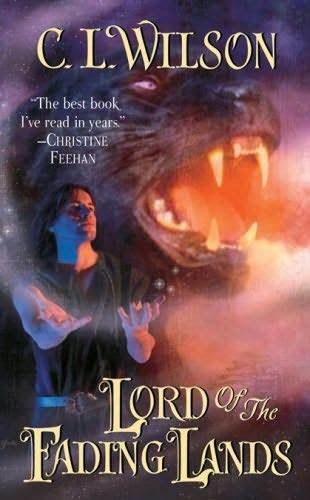 I haven't read fantasy in quite some time. I'm not sure if CS Lewis' Narnia books count (cuz I read those things ad naseum in my childhood) but I think I can safely say that I'm somewhat of a newbie to the genre. Oh yeah, I did the requisite Tolkien read in college mainly because I dated a guy who was obsessed with them and who gave me the entire LOTR boxed set as an X-mas gift. I remember (vaguely) kind of liking the concept of the neat worlds and magical powers and stuff, but missing the romance and lurve action that I really do like to have in my reading diet.
Enter C.L. Wilson. What I quite like about
Lord of the Fading Lands
is that it feels very much like the fantasy books that I remember reading, but with a good strong thread of romance running through it. Do I dare attempt a summary? There are so many characters, subplots, machinations and whatnot, that I'm not sure it's possible to do it justice.
Rain Tairen Soul is a really old (and yet hot and young-looking) tairen who lost his wife a long time ago in a big epic war against EVIL. (and as we are reminded time and again, that would be Evil with a capital E). Rain is the King of the Fey and the leader of the tairen, otherwise known as the Tairen Soul. His kind, the tairen, seem to be facing extinction because all of the female tairen are barren (oh man, that rhymed and I totally did not intend it). All these years later, he is alerted to the existence of his truemate, who happens to be a young peasant girl. Elysseta or Ellie is the adopted daughter of a woodcarver in the kingdom next door. Her life is turned upside down when Rain literally falls out of the sky and claims her as his mate. Wowza! Before she knows it, this hot masterful king with the kick-ass powers (he can turn into a winged-cat thing and FLY!) has a one-track mind to marry her. Lil' ol' her. She spends the majority of the book protesting that it must be a mistake. She's just a nobody. Not worthy. Etcetera. But of course we readers know better. Ellie has special powers of her own and she's just starting to come into them. Will Rain claim his mate and will she save all of tairen-kind and by extension the entire world? [insert dramatic music]
Well, I don't know because this is a series and apparently book one is more like episode one. There is more to come. And ultimately, that is my whine with the book. I liked the writing. The author has a very strong voice and does a skillful job with building her world. It felt authentic and real and dare I say, epic. BUT at the end of the book, we do not get to see Rain and Ellie together in the truest sense of the word. It is like we get to the end of part 1 of their courtship. You gotta read the next book to find out how/if/when they actually get their mateship on. Arg! I hate cliff-hanger endings. So as a romance novel, this brings the grade down for me. As a fantasy epic, it's probably just par for the course.
That said, I like the book and I will read the next one. Probably pretty soon in fact. I have a soft spot for stoic yet sensitive heros and Rain has that going for him in spades. Yum. And if Ellie doesn't come to her senses and marry him posthaste, I may just beat her to it.
Grade:
B