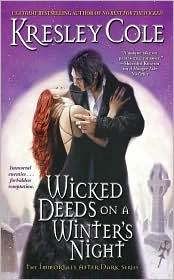 Ok, I guess I was just a little too optimistic last week when I thought I would be able to write five reviews in five days. This should have been up on Friday. But real life (aka work, school, boyfriend) intervened. Alas.
Let's get back to the magickal mystery tour. Our last entry took us around the world and back again on the Talisman Hie. This race to the finish included our new hero Bowen MacReive. He's Lykae and from the same clan as Lachlain (he of A Hunger Like No Other fame). Bowen or Bowe as his friends call him has a bit of an attitude issue. Quite frankly, the guy is a major sourpuss. He has good reason to be. Lykae mate for life and since he lost his mate just after they got together, he is doomed to live out the rest of his long immortal existence alone. No mate. No lurve. The angst. It drags. Us. All. Down. With. Him.
But wait! Remember that the prize for winning the Hie is a magickal key that allows one to travel in time? Of course Bowe figures that all he has to do is win that key, then go back in time and save his mate and live happily ever after. Armed with this fledling hope, the man is on a mission. He attacks each challenge in the Hie with single-minded devotion and when he finds himself in an ancient burial chamber with Mariketa the Awaited (a witch) he has no qualms in grabbing the gold and sealing her in the tomb. He's seen that she can work powerful magick and figures that she'll be out of there in a jiffy, but at least he'll have slowed down another competitor. All's fair in love and war, right?
Wrong!
Mari stays trapped in that cave (along with some other magickal beings) and is tormented by incubii. Ewwww! Bowe finishes (loses) the Hie and comes back to find that he's enemy of the public numero uno. If he doesn't go back into the South American jungle and rescue Mari, an inter-species war is going to break out. Och!
Rescuing Mari and the other magickal beings turns out to be more complicated than just getting them out of the cave. They have to slog through the rainforest on foot, staying out of the way of warring rebel factions and squabbling amongst each other. Bowe has the hots for Mari but he doesn't trust his instincts because he is convinced that Mari's magick is messing with his mind. Mari wants to strangle Bowe for being such an overbearing boor (but secretly she has a thing for him as well). They fight and make up. Quite a few times, in fact. There is a lot of trudge and grudge. Trudge through the jungle, hold grudges against the other. Bowe is hardly a prince charming. His idea of romance is telling Mari that she might be his mate Mariah reincarnated (how else can he explain his urges towards her...Lykae only mate once after all). Charming indeed.
What doesn't really work is the overly plotty and convoluted ending as well as the pacing of the story in general. It goes in bursts and therefore my attention goes in the same manner. Up and down. What does work is the sexual tension between the lead characters. It's believable and it's hot, and I like that part. Also, there are some very interesting secondary characters that are probably getting set up for their own books. (I am SO ready to read about the hot (heh) rage demon king Rydstrom, gimme that book now please!)
Oh well. I'd still be game for the next installment.
Grade:
C+