ok, so maybe it was more like 30 dresses, but anyways. Time for more random updates...
The wedding dress trying-on spree went very well. My cousin and I were able to narrow down which styles and cuts look good on me. Some of my favorites can be seen by clicking
here
and
here
and
here
and
here
and
here
. Your input, feedback, etc. is of course appreciated. Funny enough, I sent my mom pictures of about 30 or 40 dresses and the ones she picked as her favs were exactly the same as my favs. And my cousin's. And lisabea's! (woot!) So I guess that means my instincts are pretty good. hopefully. Now the great ebay search begins.
I'm officially on Christmas holiday aka time off work. I had hoped to take some half days off last week (particularly Friday afternoon) in order to use up some vacation days that I'd accumulated before they go away at the end of the year. Unfortunately, there were some crises that came up which only I could negotiate and I ended up spending my entire day scrambling around the office fighting fires. So much for that. pfft. Which left me feeling very grumpy and rather non-holiday-spirit-ish.
Bookwise, I'm halfway through Broken Wing. It's easy to read and while not ground breaking, a nice solid romance. It's nice to curl up with a book during the holidays and I'm glad I saved this one for that purpose. Very cozy. heh.
In major news, DF and I have put down a deposit on an apartment. Hope to move in around the first of the new year. If you've been around my blog for long you've probably read my ranting and whining at my roommate situation. I'm just getting too old to have to live with college kids and clean up after them. Anyways, we're really excited about the new place. It's in an apartment community that is not of the cookie-cutter modern variety. Mainly older and retired folks. Our apartment will be in a historic building, wood floors, big windows, closed-up fireplaces.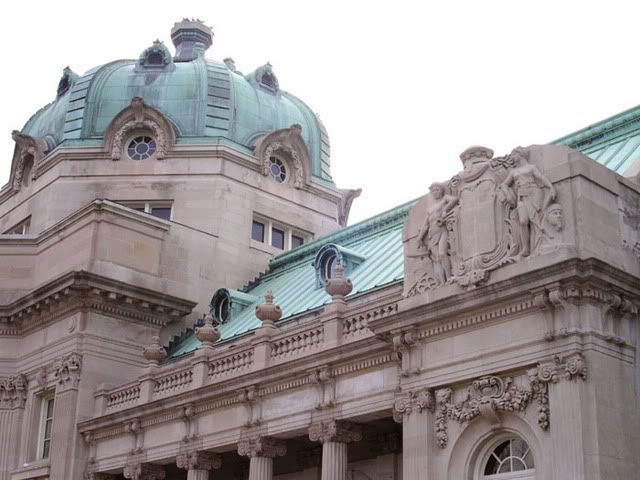 Oh and radiator heaters!!! Best of all, it's within about a minute walk from the library and historic walking mall. The library is literally around the corner. And what a gorgeous building it is (as seen in photo here). I'm very excited to be able to just drop in any time and pick up books, CDs, videos and whatnot.
So that's what's going on in sulaland. Hope everyone is having a relatively low-stress holiday season. Now I'm off to go cook up an African meal for DF and one of our friends from Ghana. Tis the season and all that.