Tests and papers in the rearview mirror, it seemed like a good time to make a visit to the library. Besides, my BF wanted to go get some DVDs to watch now that he is free from homework and school. So while he perused the DVD wall, I wandered around the paperback shelves. As always, I forgot to bring a list, but I ended up with a mix of books. Actually, now that I look at it, I guess each of them is from a different genre. History, paranormal, paranormal suspense, and contemporary. To use the newly crowned Merriam-Webster word of the year...
w00t
!
The Perils of Pursuing a Prince - Julia London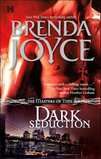 Dark Seduction - Brenda Joyce
Shadow Touch - Marjorie M. Liu
Faking It - Jennifer Crusie
And the most exciting thing of all, I found in the audiobook department. An unabridged copy of Diana Gabaldon's new(ish) book
Lord John and the Brotherhood of the Blade
! I love audiobooks. I love Gabaldon. Two of my favorite things combined. Very excited to start this. *g*
But before any of these new books will be opened, I must complete my reread nirvana.
The Serpent Prince
. *sigh*