I'm back to my own house after a month of internet-less house sitting. And of course I'm finding this endless access to the time-suck known as the world wide web to be as addictive as ever. I haven't read more than one book since I got home and that's been all of four days...I should have finished at least four or five! lol.
Actually, what I really should be doing is paying attention to my two MBA courses that are about to finish up next week. Finals and all that. hmm. I feel like I've been skating by, paying just enough attention in class to keep my good grades but not going above and beyond to really dig in and get a lot out of it. Which is silly really because the whole point of getting the damn degree is to learn something. Gotta do better on this next semester. hmmm, mumble mumble.
The forecast is calling for an 80% chance of snow late tonite and tomorrow. Since this is Virginia and people don't know how to drive on one centimeter of snow, there would be a good probability that school (and therefore work, for me) might be cancelled or delayed. So I am rooting for the snow. C'mon...bring it on!
In anticipation of being snowed in, I went to Borders tonite and used my $5 in Borders Bucks towards the purchase of Anna Campbell's new book
Untouched
. Granted, I didn't read Claiming the Courtesan, but Sybil had some
previews
up for this book on her blog a while back, and I was intrigued. Also, it seems to be getting pretty good reviews, so I'm looking forward to trying a new author. And hey, with my discount, I paid all of $2 so even if I hate it, it won't be a total loss.
In other reading-related news, I recently came across my audio-book versions of
Outlander
,
Dragonfly in Amber
and
Drums of Autumn
. Granted, they are the abridged versions but I bought them for a steal at B&N years and years ago and they've been sitting in the boxes I left in storage when I went into Peace Corps. Fun to run across them now and give them a whirl. I love listening to audiobooks, especially at night in the dark when I'm trying to fall asleep. It's like having someone tell you a story at bedtime. Only problem of course is when the story is too engaging and you stay awake because you don't want to miss anything. Tonight I am going to be listening to
Hidden Riches
by Nora Roberts. My library just started having audiobook downloads (for free!) but their selection of romance audiobooks is pretty pathetic. Lots of Delinsky, Coulter and Macomber. I'm hoping that by checking out the few that are actually good, they will get good stats as to popularity and maybe they will add more to the catalogue. Go check out the
selection
and give me any recommendations that you might have.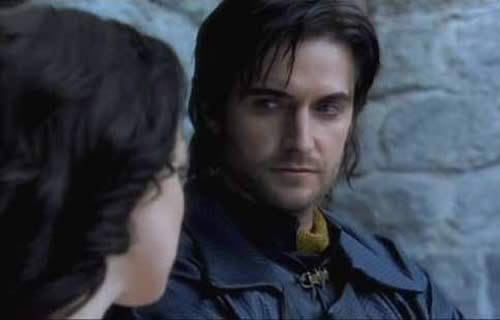 If I could only get an audiobook read by Richard Armitage, I think my life would be complete. Can you imagine falling asleep to that sexy voice? Guaranteed good dreams!
I hope to awake to a winter wonderland...wish me luck!