Well I'm now officially addicted to another TV series. Ever since I realized belatedly that I've had BBC America all this time on my cable line-up (I thought it had gone away when we cancelled the extra set of channels but stupidly never bothered to check), I have been revelling in the ability to satiate my Richard Armitage fetish by DVRing
Robin Hood
. Now, thanks to a hot tip from
Carrie Lofty
, I've added another show to my 'record all episodes' DVR list. Thanks a lot, Carrie...now I'll be sure to waste hours and hours in front of the tube! lol.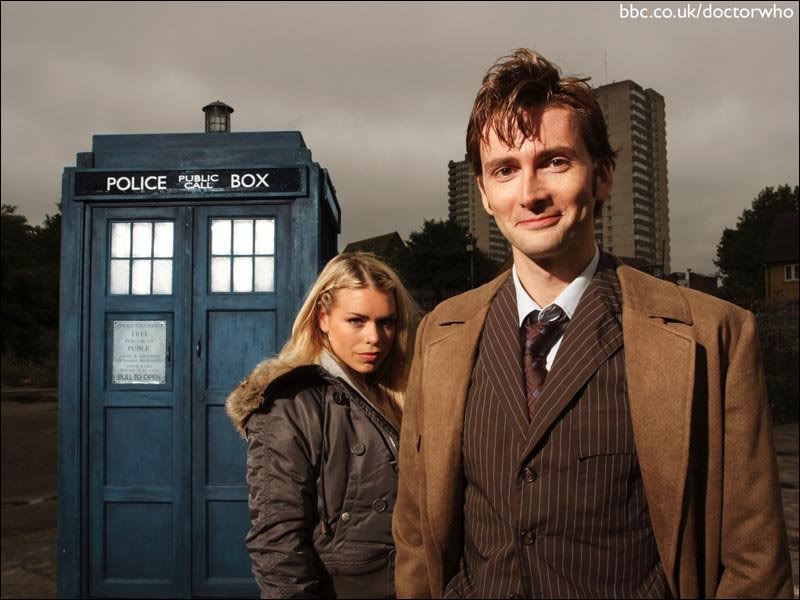 Do I dare to even try give a summary as to what the show's about? I've only watched five episodes so far - the last three of season 2 and the first two installments of season 3. I don't even have all of the characters or plot lines remotely straight. There's this quirky guy who doesn't have a name other than "The Doctor" who travels around space and time in a police box and sorts out problems dealing with various alien forces and manifestations. In the episodes I saw, he was accompanied by a side-kick or assistant named Rose. Now it appears that she won't be in the next season and another gal is being set up as the side-kick. I'm sure that fans have their opinions as to the relative merits of this development. Me, I don't have an opinion. Other than that what I saw made me want to go back and see how the relationship between the Doctor and Rose developed because it was quite obvious in the season finale that there was a something very real and deep between them.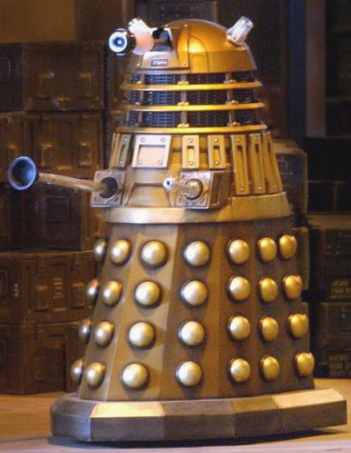 What I quite liked about what I've seen so far is that this show is not strictly sci-fi. It also has strong elements of drama, comedy, adventure, and even little hints of romance. And while I found myself laughing at the almost Peter-Pan like whimsy of the Doctor on than one occasion, the "bad guys" and their nefarious intentions are very real and quite dark. Who would have thought that a tin can that looks like a squared-off version of R2-D2 could actually be scary. When it's gliding around screeching "Exterminate!" in maniacal-robot tones and then shooting people into dust bits, it starts looking a lot less cute. And then there was this super-creepy part in which the humans are being conquered by these machine-like beings and having their brains sucked out and installed into metal bodies. eep!
What makes it all watchable is the human element. The Doctor is a multi-faceted character who is alteratively really funny, incredibly smart, deadly serious, and deeply intuitive. You get the impression that beneath his cheerful and often flippant mannerisisms he is an old soul. From what little I saw of Rose, she impressed me as having her head screwed on straight and not just being a TSTL female side-kick installed for the purpose of making the male lead look stronger and smarter. She's in touch with her emotions, but she's also strong and resourceful. I quite liked her and look forward to seeing the previous seasons.
Now I'm off to netflix to see if I can't find the aforementioned previous episodes. Yay for more entertainment to fill my already busy schedule.