Yep, it's
Man Love Monday
! Be sure to check out
lisabea's
blog for hilarious commentary, HAWT photos and loads of fun. My humble contributions will come in the form of book reviews. Let's begin, shall we?
I have to be honest. I did not expect to be particularly interested in reading an m/m romance novel. To be sure, I've read books that had gay secondary characters as well as ménage stories which included some m/m action. But my first love is historicals and I was under the impression that given the rigid social structures in the past, a satisfactory gay love story would be difficult if not impossible to find. I like my HEA and how happy of an ending can one have with the shadow of an oppressive disapproving (and downright dangerous) conservative society hanging over your protagonists' heads? Enter J.L. Langley's gay space Regency,
My Fair Captain
. Yes, you read that right. Gay space Regency! All of the fun clothes, stuffy balls, horses and carriages and social rules but recast in a totally gay society.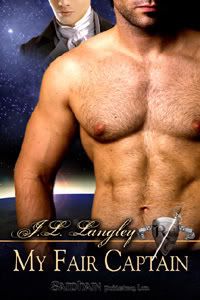 Captain Nathaniel Hawkins commands an intergalactic Navy space frigate. Banished from his own home planet years ago after a duel, Nate lives the life of a rough and ready warrior. Sent to the planet Regelence to investigate a case involving missing weapons, he finds himself in the middle of a highly formalized Regency-like society where young men are chaperoned and sought after in marriage by older more experienced men of the Ton. King Steven and his consort Raleigh are Nate's hosts, and as luck would have it, one of their five sons literally falls into his lap. Aiden is a young, headstrong artist who has no interest in playing the marriage mart. He is only interested in furthering his training in art and wonders, "Why did everyone think a man needed a consort and children to make him complete?" (sound familiar?)
Readers of historical romances will pick up on the types right away; what makes the book so fun to read is that the standard formula we all know is turned just slightly on its head. Nate is the alpha hero. Strong, masculine, straightforward and just a little gruff, he can't understand why he's so attracted to Aiden. Although naïve and unsure of all the new feelings coursing through him, Aiden finds himself drawn to the dashing captain and reconsiders his antipathy towards marriage. They engage in a courtship that includes all of those delightful little Regency scenarios. The first waltz at the ball. A furtive kiss away from the chaperone's watchful eye. Nate making his intentions known to Aiden's parents. Even the standard "being caught in a compromising situation and being forced to marry in a hurry." It's all there. Oh and did I mention the wedding night? I have to hand it to Langley. This was hot and romantic and thoroughly believable. A natural physical expression of the emotional connection between these two men and not something merely meant to shock or titillate the reader.
There's more to the story about the missing weapons and the dastardly bad guys who are trying to take over the world (or something) but I found myself skimming over that stuff to get back to Nate and Aiden. The developing relationship between them rings true and becomes more involved throughout the book. And the supporting characters like Nate's adopted son and Aiden's parents and brothers all have distinctive personalities and propel the story along. When I finished the story, it was with a big sigh and a sloppy grin on my face. And that's what I really want out of a romance novel.
If you, like me, are new to the world of man-love romances and you want a good place to start, you could do no better than
My Fair Captain
. I know that I'm keeping Langley on my list of authors to watch and I can't wait to read another story set in Regelence. Much thanks to
lisabea
for getting the word out on this book.
A-