...yes, that's right, Manlove! Back by popular demand. A day to talk about all things related to the men lovin' the men. Of course, you will have already checked out the fabulous blog of dear
lisabea
for hijinks and hot man pics. And if you haven't checked it out, then hurry up and do so!
For myself, I have a bit of a confession to make. I was all set to do some pondering and deep thinking and had planned to write about my introduction to m/m love in books. And then I got side-tracked. Basically, my whole day got eaten up by obsessively watching Season 1 of
Doctor Who
. Did you know that Netflix does this thing where you can stream video over the web and watch movies instead of waiting for them to come through the mail? Yeah. Pretty cool stuff! Um yeah, so that's why this entry will be short and probably a lot less intelligent-sounding than first intended.
But let's go back to the beginning. I have been trying to think back and recall the very first time that I read a book that included some m/m action. I don't want to count the bits from some of Robin Schone's books (I'm vaguely remembering something from The Lady's Tutor?) where m/m is a kind of shorthand for 'evol and depraved' cuz honestly, where's the love? No, I think the first time I ever stumbled across manlove would have to be when I picked up the last installment in Anne Rice's
Sleeping Beauty
erotic novels. Holey wow! For a nice little Christian missionary girl like me, this was an eye-opening experience. (*cue music to "A Whole New World"*)
From there I moved on to some good ol' Emma Holly. First up was
Menage
which I got because I thought it sounded kinda spicy. And it was. Only the spiciest bits were not so much the threesomes, they were the intense and passionate exchanges between Joe and Sean. That whole ending where Joe comes back all alpha male and "marries" Kate? Rubbish. I don't buy it for a moment. Those guys have to be together. Whether or not they add Kate to the mix is immaterial. Point being, it was the first time that I was emotionally rooting for the other guy (something like cheering the notorious "other woman" perhaps?) to get the guy.
More Emma Holly followed.
Cooking Up a Storm
featured a hot Quebecois chef who was very, shall we say, comfortable with his sexuality? And another Holly book,
Fairyville
, again was all about the connection between the two men that made the book worth reading. All that crap about Magnus and his magical wee wasn't nearly as compelling as Bryan and Alex. (Although I will say that the best scene in the book, for my money, is when Magnus goes down on Bryan...hothothot!)
Which leads me to my first REAL m/m romance novel. Yes, you knew I had to mention it.
My Fair Captain
by the incomparable
JL Langley
. I already
blogged
about this one, so I won't rehash it here. But since then, I'm both eager to jump into more m/m books and also terrified to do so for fear that none of them will live up to my very high expectations after Langley. Now that I've typed that, the solution occurs to me that I should probably start by...um...reading more Langley? righto, sula, you're a real bright one.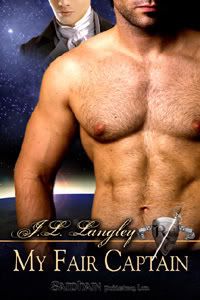 Anyways, to finish this rather rambling entry, I figured I'd take a page from my dear buddy lisabea and offer a copy of
My Fair Captain
to one lucky reader out there. Yeah, ok, perhaps it's just a scheme to get you to comment on my blog, but consider...you could win one of the best reads of 2007! So join in the fun of the day and share your thoughts, recommendations, cheers, jeers, or whatever.
Happy Manlove Monday!